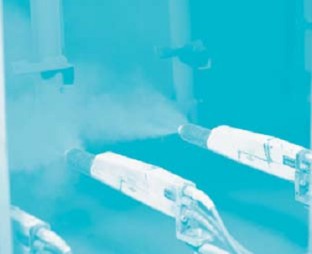 DCI's facilities include a fully automated Powder Coating line. Parts are racked on the conveyor and are cleaned via a three stage process prior to coating. The dedicated Powder Coating line allows small and large piece flow on racks and conveyor, with the option of manual spraying. This process is environmentally friendly and efficient, as the electrostatic powder is reclaimed and reused.
Three Stage Cleaning & Preparation
The first stage is detergent spray and rinse. Second is iron phosphate spray, which provides corrosion resistance and a key for the powder to adhere. The last stage is oven drying at 200° celsius ensuring maximum adhesion.
Powder Coating
Fully automated powder coating line

Low volume manual spraying

Capability to paint high visibility decorative components

Assorted colour choices

Process control to rigorous quality standards
Specialized Services
Customized racking & masking

Controlled coverage powder coating of threaded components, ensuring thread is functional

Out-gassing procedure for aluminium castings

Packaging services to create finished goods ready for distribution or sale

Download PDF Brochure