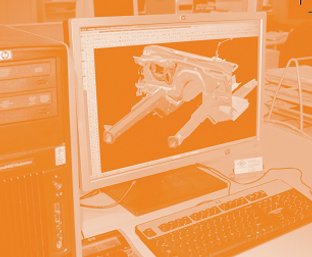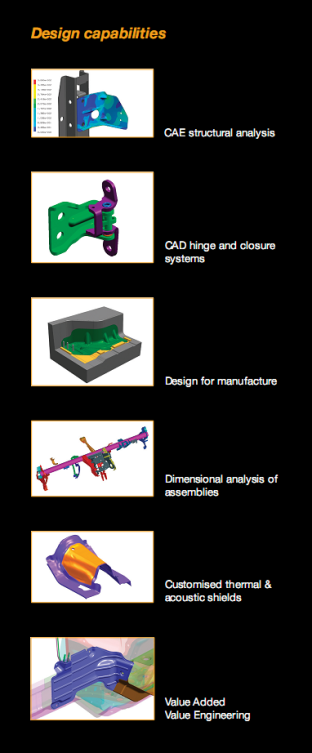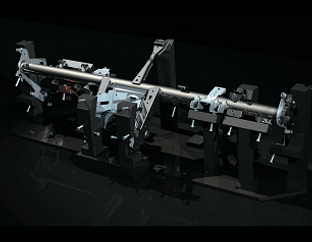 DCI's engineering services provide a disciplined approach to the design & development of engineered metal products & assemblies ensuring adherence to the highest quality standards. Utilising state of the art technology, combined with our team of experienced engineers, we create innovative designs that translate to efficiently manufactured components giving our customers a competitive edge.
Design Capabilities
Hinge & closure systems, mechanisms, cross car beam assemblies, metal pressings & welding, heat & acoustic shields, with detailed evaluation in the following fields.
Static linear & non-linear structural analysis

NVH modal analysis

Durability / Fatigue analysis

Linear buckling analysis

Thermal steady-state heat transfer analysis

Static & dynamic kinematic analysis

Acoustic testing & analysis
CAD/CAE Applications
Unigraphics NX*
CATIA V5*
IDEAS C3P*
Pro Engineer
CAD/CAE Neutral Format Compliance
NASTRAN
Parasolid*
STEP203
STEP214
CGM
STL
JT*
IGES*
VRML
DXF*
DWG*
Development Services
Project management

Prototyping

Tool, jig & fixture design and manufacture

Full machine shop capabilities

Design validation

Design & manufacture of test rigs

Design feasibility
Production Feasibility
Design for manufacture

Production assembly layout & design

Production systems design, incorporating lean manufacturing practices
Other Services
DCI is a solution orientated organisation that will project manage product design and development or offer contract project management for the entire process.
Jigs and Fixtures
In-house design and manufacture of jigs, fixtures and tools.
Complex Fabricated Assemblies
Automotive instrument panel cross car beam, constructed to exacting specifications.

* Registered Trademarks of their respective companies.

Download PDF Brochure