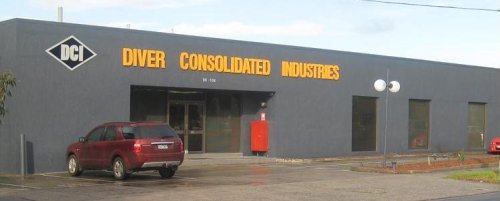 Diver Consolidated Industries (DCI) is an Australian owned company established in Melbourne during the early 1930's.
Following years of sustained expansion and growth, DCI is now regarded as a major component manufacturer to the Australian automotive industry. DCI also supplies goods to other diverse industries: trucking, marine and bio-medical to domestic and export markets. DCI enjoys an excellent reputation as a Dependable, Competitive and Innovative supplier.
Over the years DCI has built on its metal stamping foundation by diversifying into other manufacturing and processing areas such as;
Product Design - CAD/CAE

Heat Management Products (Heat Shields)

Acoustic Shields

Chassis Components and Structures

Hinge Systems

Robotic Welding

Tool Design and Manufacture

Powder Coating
DCI undertakes most key processes in-house. A great majority of our products can be processed from raw material to finished goods without moving off-site, thus maintaining our control on quality and cost.
Broad and vertically integrated manufacturing capabilities enable DCI to be a supplier of multiple product lines providing our customers with a consolidated purchasing opportunity.
DCI is firmly committed quality with business systems certified to ISO 9002, QS 9000, ISO14001 and TS16949.
We are proud to be the exclusive Australian licensee / technology partner of Multimatic Inc. of Toronto, Canada (hinge and closure systems, suspension technologies and body structures).